We take great pride in being consistently involved in our community.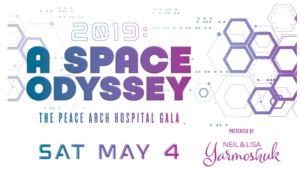 We are so excited to announce that the 2019: A Space Odyssey Gala raised $882,000 towards surgical care at Peace Arch Hospital! Thank you so much for helping us make this mission possible. Every donation to our auction, large and small, made an impact on the amount we were able to raise. You will receive an acknowledgement receipt for your donation in the coming months. We are so appreciative of your support. Thank you again!

FOR IMMEDIATE RELEASE ANNOUNCING A NEW TITLE PARTNER
IT'S FULL STEAM AHEAD FOR THE GREAT OKANAGAN BEER FESTIVAL WITH THE TRAIN STATION PUB COMING ON AS THE TITLE SPONSOR FOR 2019
December 18, 2018 (Kelowna, BC): The Great Okanagan Beer Festival (GOBF) is proud to announce that The Train Station Pub has officially come on board as its title sponsor. GOBF 2019 is full steam ahead and moving forward the festival will be known as The Great Okanagan Beer Festival presented by The Train Station Pub. "GOBF and TSP is simply the perfect partnership, it is all letters that spell out: Get On Beer Fun Together Spectacular People! Okay well call it what you want, The Train Station Pub and the Great Okanagan Beer Festival has been the perfect match up since 2015 for elevated drink, people, and environment, we simply had to be the title sponsor this year!" says David Lindsay, Conductor of The Train Station Pub. "We are truly excited to work alongside the entire Gibbons team, to provide a forward thinking beer festival to the Okanagan!" The Train Station Pub will be onsite at GOBF and will also be hosting GOBF2019's Official Afterparty, with more details about that to be released in the coming months. Both festivals organizers and The Train Station Pub are incredibly excited about what this new partnership will bring, particularly in terms of an enhanced experience for festival-goers. "We're very proud of this partnership with Train Station Pub" says Katrina Frew, Director of Festivals & Events at Gibbons Whistler. "When creating a new festival in a new town you can be faced with challenges, and since the beginning The Train Station Pub has been by our side. They have showed us amazing hospitality and have been imperative with helping us build relationships in the local community. They have become our family in Kelowna and them coming on as the title sponsor was just a natural fit." Since 1926 The Train Station Pub has welcomed newcomers to Kelowna and seen friends and family reunited. Nothing's changed since then, except that they now offer great food, craft beer on tap, and Okanagan wine. The Train Station Pub fosters an environment that is friendly, connected, and authentic to downtown Kelowna. You will know when you've arrived! The 2019 Great Okanagan Beer Festival presented by The Train Station Pub takes place May 9 – 11, 2019 in Kelowna, with the Main Event happening on May 11th at Waterfront Park from 12 PM – 5 PM. In addition to a vast selection of craft beer and ciders, the event promises live music, food trucks, interactive games and exhibitor booths, and much more. Advanced tickets are on sale now to the public with two options available, a General Admission Ticket or an All Access Pass, which offers extra beer tokens, a lunch provided by Grimms Fine Foods, and an express entry line. Both types of tickets are available exclusively online at gobf.ca and are at an advanced rate for a limited time. Let's celebrate our love of beer together, all aboard the GOBF train, choo choo! Great Okanagan Beer Festival presented by The Train Station Pub: The Great Okanagan Beer Festival is a 3-day celebration, offering festival and craft beer lovers a mix of amazing programming at local bars and pubs. Saturday will showcase the cannot miss Main Event at Waterfront Park, where over 60 craft breweries will come together to pour over 120 beers and ciders for 3,000+ festival-goers. Nestled on the beautiful beaches of Okanagan Lake and right in the heart of downtown Kelowna, breweries, food trucks, bands and festival-goers join in our celebration of the love of beer. We'll cheers to the best craft beers and ciders that BC has to offer, showcasing breweries from across BC, with a few of our favourite out of province brews joining the fun. More information at gobf.ca. The Train Station Pub: The Train Station Pub is not only home to delicious food and great drinks, it's also a place where you're guaranteed to have a great time. Our laidback local feel combined with our friendly team members is what makes The Train Station Pub a place people come back to time and time again. The Train Station Pub, rich in history is home to one of Kelowna's top patios in the summer also has something happening year-round. Check us out, you'll be glad you came! For more information visit thetrainstationpub.com Media Inquiries: Brittia Thompson | Marketing Manager | brittia@gibbonswhistler.com
Why you are the reason Cycle for Strong Kids is a success!
We would like to thank you for your generous donation to our 12th Annual Cycle for Strong Kids fundraising event.
Your gesture of kindness brought significant impact to the success of the day, offering the community another avenue to support the YCMA by way of silent auction.
This is the largest community fundraiser for the YMCA of Okanagan.
100% of funds raised stay in our community and go to help local children, youth and families in need of assistance to access the YMCA via membership or programs.
These donations also ensure critical programs and resources are provided to address some of our communities most pressing issues,
including inactivity, isolation and poverty. 1 in 4 children require financial assistance to access YMCA programs, including adequate and nurturing childcare.
In 2017, thanks to 1,360 incredible donors, $480,000 in financial assistance was awarded to 3,692 people who otherwise
would not have been able to participate in YMCA programs that help build a strong, healthy community.
With your gift to our silent auction, Cycle for Strong Kids 2018 raised just over $85,000!
We are already looking forward to Cycle for Strong Kids in 2019.
With Gratitude,
Margo
Margo Buckley, CFRE
Fund Development Coordinator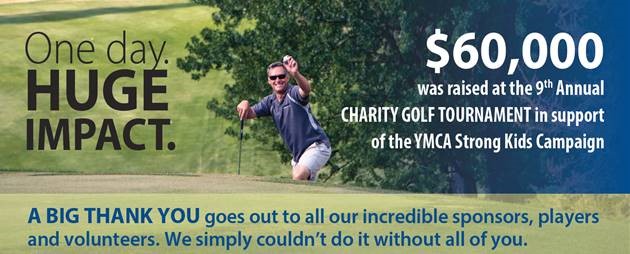 Thank you so much for supporting the 9th Annual Charity Golf Tournament. Your involvement kept this event right on PAR! The golf tournament was a HUGE success because of your generosity, hosting 144 golfers at a world-class course and engaging all local media.
All proceeds from the 9th Annual Charity Golf Tournament will go to the YMCA's Strong Kids Campaign. 100% of every dollar raised stays local and supports children and families living in the Okanagan. By being a part of the day, you have helped to ensure hundreds of underprivileged and vulnerable children and families can access YMCA programs such as child care, day camps, aquatics, employment readiness and before & after school enrichment programs. Not bad for a Monday!
With your donation, the 9th Annual Charity Golf Tournament collectively raised $60,000!!!
YOU helped make this possible.
And please – save the date. The 2019 Charity Golf Tournament will take place on July 22, 2019. You will be given the first opportunity to return as a player and/or a sponsor! We will be in touch this fall to confirm your involvement.
On behalf of the Tournament Committee and the YMCA of Okanagan, THANK YOU again for your support.
Sincerely,
Alli McNeill & John Weisbeck, Co-Chairs
Linda Berger, Caron Capozzi, Marshall Peters, Steve Pavelich & Bruce Walker; Committee Members
Our 7th annual PUSH to End Homelessness is in the books, and we're pleased to report it was a great success!
We had 17 teams PUSH their way around downtown Kelowna, winding up with a BBQ and music in Kerry Park. Along the way, they went dumpster-diving, built a sandcastle, served up ping-pong balls, moved marshmallows, and more! Between team fundraising, sponsorship's, and donations, we raised almost $17,000 to support Inn From The Cold and their programs.
The PUSH is all about the challenges, and they can't happen without partner locations. We're so grateful for your help! The support from the Train Station team has been stellar – so helpful and supportive, from the initial contact to event day.
Thank you once again, and please share our appreciation with your team.
Sincerely,
Lisa Wakefield
Emma Wakefield
on behalf of the PUSH to End Homelessness